Award winning wedding professional wedding photography at Moddershall Oaks
The Venue at Moddershall Oaks is located in 72 acres of picturesque woodland and grounds, creating the perfect setting for your big day. Their wedding venue and outdoor events space exclusive to you so it is all yours on the day! 
Having shot many weddings at this gorgeous venue over the years, Kim Shaw Photography knows some great locations for photos from the jetty and the woodland walk to the new roof terrace and everything in between, it's just photo opportunity after photo opportunity!
Kim Shaw is a fun and friendly wedding photographer who specialises in wedding photography.  With 15+ years of experience and many hundreds of weddings under her belt (an s many more than a handful were shot at Moddershall Oaks) she has the experience and knowledge to put you at ease and help and advise you regarding your wedding if or when required.
So, if you are looking for an award winning wedding photographer that knows Moddershall Oaks, who has a wealth of experience of photographing weddings of couples of all ages, who will put you at ease and provide you with a stunning gallery of photographs and a wedding album to treasure forever then please get in touch! today
Photo Booth
Are you looking for a luxury photo booth experience to compliment your wedding photography which looks fantastic at this gorgeous venue, then look no further as we have teamed up with the fabulous Premier Photo Booths.
Their open-air booths let you watch as your guests step into a world of fun, where they can't help but strike a pose or show off their silly side in front of the screen.
If you are looking to hire a classy photo booth for weddings at Moddershall Oaks then you have come to the right place. Booking a luxury photo booth experience from Premier Photo Booths will provide your guests some extra fun and laughter at your Moddershall Oaks wedding.
Classy, fun, entertaining and providing lasting mementos of your day at Moddershall Oaks are just some of the reasons why a Premier Photo Booth could be the best investment ever for your North Staffordshire wedding or event!
Want to find out more?
For more information about our retro photo booth for hire in North Staffordshire, take a look at the rest of their website. You will be able to check out your background choices and other options with hiring our booth.
To find out more about their award winning wedding photo booths in North Staffordshire, please get in touch!
Testimonials
Here are just some of the lovely things my couples have said about me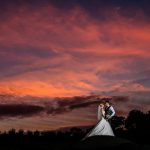 "We have recently chosen our album and WOW!! Thank you so much Kim for capturing the most amazing collection of photographs we could ever have wished for! You not only captured our every emotion, but you have also captured every single moment of our magical day."
"Throughout our day Kim played many different roles; she seamlessly organised people into positions for the group photos we wanted, played master of ceremonies when required and continuously perfected dresses, suits and hair for all of the bridal party to ensure they looked their best for their photos, I don't know what I would have done without her ."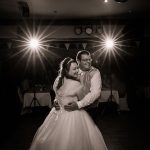 "We can't recommend Kim highly enough, so talented… we made the right choice when we booked her for our wedding."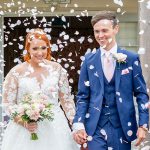 "We could not be happier with all the beautiful memories that were captured. Kim went above and beyond for us and ensured that we got some extra special outstanding shots."
"Kim was absolutely amazing on our wedding day. She captured all the beautiful moments perfectly and it was a pleasure to have her alongside us on our wedding day. She has such a warm personality and made us feel so relaxed throughout the day."
Got a question? Let's chat!
Head over to our contact page and send me a message, or give me a call on 07958 158 100.